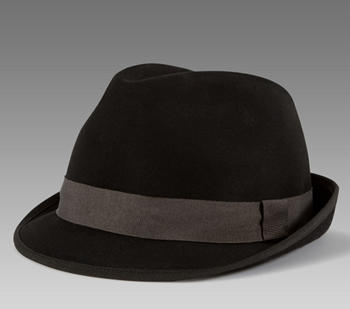 This has to be the queerest thing this side of

Tom Brady at Carnival

.

I totally do not get this. Granted, I don't get a lot of fashion, but that little brim is like hat glans. I'm not talking about girls wearing them. A hot girl could be totally off the charts sexy wearing one of my father's torn, baggy tighty-whities before Mom used to turn them into dust rags. I mean guys not named Frank Sinatra.

Do you wear one of these? Do you have a whole collection of them in different colors or materials?

Why?

In case you know what they are, but not by name, they're the tiny-brimmed hats that have been in for the past whatever number of years.